Bomb Hunters (by Craneballs)
Napsal:
úte led 31, 2017 1:20 pm
Zdravim, kolegy iPhonaky

Vim, ze jsou zde sami fundovani lidi, kteri moc hry nehrajou.. coz jde zde videt i na navsteve sekce

Ale pokud by jste nahodou meli chvilku casu a chteli vyzkouset dalsi hricku z ceske spolecnosti Craneballs (Delali jsme Overkill, Splash Cars atd..) tak si toho budeme moct vazit a cenit!

Appstore:
https://itunes.apple.com/app/bomb-hunters/id1164102837
Clanek na hru:
http://toucharcade.com/2017/01/26/bomb- ... -launched/
Pokud by jste nahodou chtěli tak muzete napsat i nejake pocity ze hry apod

Diky moc a mejte se fajn!
---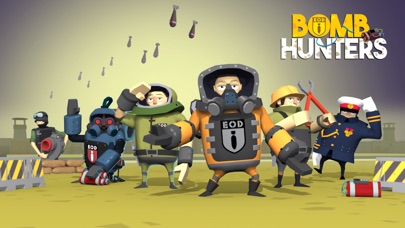 Craneballs s.r.o.
Bomb Hunters

2.0
Get your brown pants. It's boom-bang bomb-hunting time!

Grab a pair of pliers and keep your cool. You're about to experience the life of a bomb disposal expert. Always racing against a ticking time. Always wondering if it's the red wire or the blue one.

Which gets easy anyway. After a couple of successful bomb disposals, right? Not in Bomb Hunters! The bombs are spread out on a battlefield with enemy snipers and grenadiers guarding the bombs, obstacles blocking the way and heavy-traffic roads that need to be crossed.

Some of the bombs will get your head spinning as you need to manually defuse them with the right plugs and wires.

Still think you're the right one for the job? Then report to Bombquarters immediately!

>> Pick from 10 bomb-hunting characters.
>> Crawl through endless battlefields, one bomb at a time.
>> Lose your head in one of 5 different environments.
>> Increase your skill, become faster at bomb defusing.
>> Enjoy bomb disposal mini-games.
>> Complete achievements, compete in leaderboards.
>> Use life-saving power-ups.
>> Have nerve-wrecking fun.

Still here? Get Bomb Hunters now. The bomb is ticking, don't drop it!
VÍCE O APLIKACI