Zdravím, tak mě napadla taková menší věc.
Protože existuje spoustu aplikací nebo webových stránek, který upozorňují na free hry na jeden den nebo prostě jen na "limited for a time", tak mě napadlo, protože vim, že to tu občas někdo sleduje, že by sem prostě občas postnul FREE hry, který jsou prostě na ten den zdarma.
Začnu já a to FREE hrama pro dnešek. (tedy 30.4)
Operation WoW
Highborn
Golf Battle 3D
Weeding Dash
přidávejte další
a pro ostatní, aby nepsali, že už je hra zpoplatněna zpět a že skončila ta free sleva, tak
SLEDUJTE DATUM PŘÍSPĚVKŮ
EDIT: Změnil jsem trošku název tématu, aby to všichni chápali a nedávali jsem třeba náhodou i hry, který jsou free pořád.

---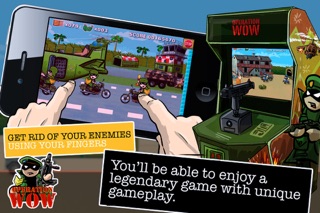 Ivanovich Games
Operation wow

2.4
Enjoy the first multi-touch shooter! 25 years later your mission continues. Are your fingers up for fight?

★ LEGENDARY GAME WITH A UNIQUE GAMEPLAY!
Operation Wow challenges you to complete six enthralling missions, but this time you'll need to use your fingers fast enough to get through exciting battles that will keep you glued to your iPhone.

★ AMAZING MULTITOUCH FIRE!
Forget about the boring machine gun! Now you have the exclusive multi-touch fire that allows you to kill your enemies using several fingers at a time.

★ MASSIVE EXPLOSIONS!
Interact with items that appear on the screen to cause massive chain explosions.

★ NO TIME FOR BORING:
✓ History mode with 6 different levels: Base camp, Jungle, Warehouse, Village, Rescue and Airport.
✓ Three difficulty levels.
✓ Game Center with challenges and online scores. Fight to be the best.
✓ Graphics and explosions optimized to look great on the iPhone 4 Retina Display"
✓ 2 Minigames and 2 new endless mode available with the extended pack

★ FANS & CRITICS AGREE: OPERATION WOW FOR iOS IS AMAZING GAME…

✓ TOUCH ARCADE: "Operation Wow has been lovingly crafted in the vein of Operation Wolf .... Operation Wow takes advantage of multitouch allowing you to shoot up to 10 bullets simultaneously (or possibly more, I ran out of fingers to test with)."
✓ APPLE: Featured as "New and Noteworthy" and "What's hot" in several countries.
✓ THE IPHONE APP REVIEW: "I've played loads of different games on the iPhone, including hugely popular titles like Angry Birds, Legends and many more, but nothing I have played so far is so much fun from the moment" (5/5).

Suggestions? problems? email us to support@ivanovichgames.com and we will be happy to answer you.
VÍCE O APLIKACI