Prosím o názory a zkušenosti k těmto správcům hesel, dají se bez obav používat?
Password Safe
https://itunes.apple.com/cz/app/passwor ... 24816?mt=8
Avast Password
https://itunes.apple.com/cz/app/avast-p ... 79526?mt=8
---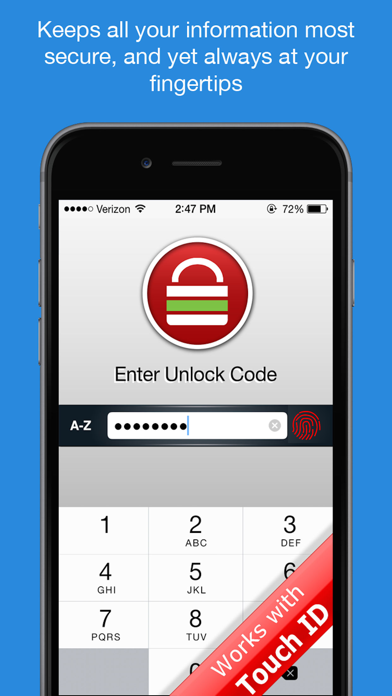 Netanel Software
Password Safe - iPassSafe

12.00
◆ iPassSafe Protects Your Privacy ◆

Supports iPhone, and iPod touch. If you own an iPad, please check out iPassSafe Pro - universal app (Supports iPad, iPhone, and iPod touch).

> TOP SECURITY
○ Using iOS AES-256 encryption to automatically encrypt all your data as soon as it's stored in iPassSafe by a Master Password that only you know
○ All data stored on your device only (cloud is optional)
○ Self destruct option after 10 tries
○ Logout timer when inactive
○ Lock timer when using other App
○ Delete clipboard (optional)
○ Strong Built-In Password Generator to create unique passwords
○ Stay anonymous, account creation is not needed
○ Touch ID support

> ALL YOUR DATA
• 24 x Custom categories you can design as you want
• 19 x Built-in categories including:
○ Logins (Web, Email, FTP...)
○ Credit Cards
○ Photos (from Gallery/Camera)
○ Bank accounts details
○ Safe/PIN numbers
○ Text notes
○ Documents (PDF, Word, Excel, PPT ...)
○ Contacts with Build-it call/send email option
○ ID cards
○ Passports
○ Driving License
○ Software License

> INTEGRATION WITH SAFARI APP
○ Fill Login directly in Safari App, by iPassSafe
○ New Logins pulled in from Safari App to iPassSafe
○ Support auto login with 3 (up to 4!) Parameters
○ Icons pulled in from any of your websites automatically !

> SYNC
○ 5 Sync options (iCloud, Dropbox, FTP, AirDrop & Email)
○ All data get encrypted before sync
○ Cloud is optional but not a requirement

> ADVANCED FEATURES
○ Integrates with iOS 12's Authentication Services framework,
allowing users to seamlessly autofill usernames and passwords directly from the QuickType bar to apps and Safari
○ Air Print (Single/All Items)
○ Contact import from Address Book
○ Call & Send Email to private contact using App
○ Login to private Gmail/Yahoo account from App
○ Built-in browser with auto/manual login
○ Built-in search tool
○ Dynamic sorting option
○ Multiple Databases (per users or contents)
○ Private Expiry Reminder (Credit card, Driving License...)
○ Available in 17 languages

> WHY CHOOSE IPASSSAFE ?
○ iPassSafe provides top rate data security together with intelligent and user-friendly interface for rapid access
○ No hidden cost - You pay only once and get all features without any subscription

> ABOUT APP
iPassSafe is available on AppStore since early 2011 with more than 600,000 users worldwide, it delivers most comprehensive, user friendly and reliable solution to personal data security.

> NOTES:
1. Remember Your Password !
without it , you will not be able to see your data.

2. Backup is not done automatically, the user is responsible for such a backup (IDB file) using features (iCloud, Dropbox, email, FTP ...) exists in iPassSafe to avoid loss of data when device is lost, damaged or any other reason, furthermore iPassSafe is NOT providing any direct cloud service, password retrieval, or backup service for security reason (all data stored on your device only!), user need to decide where to do the backup (iCloud, user's private Dropbox account, user's diskonkey using FTP, or user's email ...), the user is also responsible for this backup safety.

3. Sync is not merging data, you have to keep all updated data on one device and use sync option upload file, then load and activate with a password on all your other devices

4. Smart auto login algorithm is compatible with most web sites

> CUSTOMER REVIEWS:

"I have been using this app for years now to keep all my passwords and sensitive information,and have found it easy to use and would not hesitate to recommend it."

"RESULT AT LAST !!!!!
I have spent 4 evenings loading and trying out at least 29 Password Keepers and have finally found one that is straight forward to use with enhanced security.

"Analyst - Perfectly fit my business need"
VÍCE O APLIKACI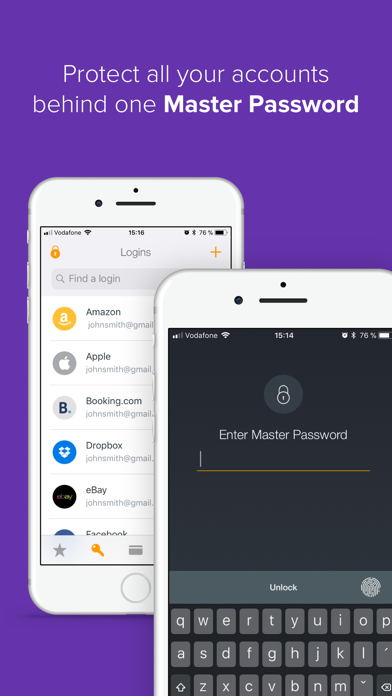 AVAST Software
Avast Passwords

1.15.4
At Avast we've been thinking a lot about how to make logging into all of your different accounts easier, faster and more secure. Introducing Avast Passwords – our secure solution that makes logging in safe and easy.

Logging into different websites and accounts can be a hassle. Gmail. Facebook. Your online banking. Who can remember all those usernames, passwords and pin codes? With Avast Passwords you can store all your login details in one secure place – right at your fingertips and protected by a single master password. So you can sign in faster without reusing your passwords – or worse, saving them on your browser.

With Avast Passwords you can:

- Create strong, unique passwords for each of your accounts
- Save and store all your login details is a secure place
- Safely store your personal information
- Automatically auto-fill online forms via a floating button
- Automatically auto-fill online forms using a Safari extension, available from the bottom bar
- Synchronize your passwords across your platforms and devices
- Use One Touch Login to securely access all your accounts on your computer by just tapping the screen on your mobile
- Be notified if any of your passwords has been leaked

Avast Passwords makes logging in to any of your accounts easier and safer than ever.

- Save time logging into websites and accounts
- No need to hide your passwords and pin codes in unsecure places
- No need to memorize or write down a bunch of different passwords
- Never forget and have to restore a password again
- Feel secure knowing that all your passwords are strong and hard to break
- Keep all your sensitive data organized in one secure place accessible from all your devices
- Feel safe knowing that your personal info is safe and secure
- No need to come up with new login details each time you sign up for a new site

Keep all your passwords, PINs and logins safely at your fingertips.

Try Avast Passwords and give us your feedback!

We are continuously improving the look and feel and fixing bugs so you always have the best experience while using our app. If this is not the case, please let us know!
VÍCE O APLIKACI